---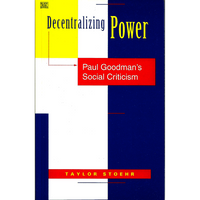 Decentralizing Power: Paul Goodman's Social Criticism

Taylor Stoehr
In this new collection of his most acute and durable political writing, readers will recognize the spirit of indignation and hope Goodman first roused in the 1960s with Growing Up Absurd, the book that brought him into prominence and set much of the agenda for the youth movement during the 60s and into the 70s.
Never content to criticize without awakening initiative and encouraging action, Paul Goodman's writing is as compelling in the 21st Century as it was in the 60s. Believing that the States and institutions interfered too much in people's lives, undermining initiative for the sake of soulless order and mindless material growth, Goodman was articulate about a wide range of concerns, from community planning, language theory, psychology, and education, to countless political and social problems, and presented us with some real alternatives.

Taylor Stoehr is Goodman's literary executor, and has edited over a dozen volumes of his work. For this new collection, he has unearthed a hitherto unpublished essay on "Social Criticism," written in 1963, and adds to it a generous selection from Goodman's liveliest and most compelling thought. A professor of English at the University of Massachusetts in Boston, Stoehr is the author of Here Now Next: Paul Goodman and the Origins of Gestalt Therapy.

Stoehr tells his [Goodman's] story well, this is the genuine kind of decentralism. - The Nation

 

Paul Goodman brought a new invigorating stream into American anarchism, simply through his insistence that in all problems of daily life we are faced with the possibility of choice between authoritarian and libertarian solutions. Stoehr's sympathetic editing introduces Goodman's social criticism to a new generation. - Colin Ward
Table of Contents
Acknowledgements

Introduction

Selected Bibliography

Textual Note

1. Social Criticism

2. Anarchism


The Anarchist Principle

Anarchism and Revolution

Freedom and Autonomy


3. Education


Children's Rights

The Present Moment in Education

The Unteachables


4. Science and Technology


The Human Uses of Science

Prudent Technology

A Causerie at the Military-Industrial


5. Modern Culture in Crisis


Format and Colloquial Speech

The Limits of Local Liberty

Racism, Spite, Guilt, and Non-Violence

Civil Disobedience


6. Decentralizing Power


Some Prima Facie Objections to Centralism

The Sentiment of Powerlessness

Confusion and Disorder


7. Notes of a Neolithic Conservative

1995: 204 pages
Decentralizing Power Retail Prices
Paperback:
978-1-55164-008-2 $19.99
Hardcover:
978-1-55164-009-9 $48.99
PDF eBook:
978-155164-428-8 $11.99