---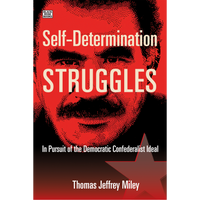 Self-Determination Struggles:  In Pursuit of the Democratic Confederalist Ideal

Thomas Jeffrey Miley
"Thomas Jeffrey Miley is one of the most exciting radical thinkers writing about the principle of self-determination today... With great clarity and erudition, Miley helps us rethink the problem of self-determination for our crisis-ridden times. An important work by a remarkable scholar-activist, this book will stand as a key contribution to both academic scholarship and popular struggles."
– Jerome Roos, LSE Fellow in International Political Economy at the London School of Economics, and the founding editor of ROAR.
A thorough contemporary discussion of the meaning and theory of self-determination.
Self-determination is a concept as indispensable as it is contentious. This volume examines the theory and meaning of self-determination today through an exploration of the work of figures such as Rosa Luxembourg, Frantz Fanon, and Abdullah Öcalan, the leader of the Kurdish Freedom Movement. Leaving no stone unturned, Self-Determination Struggles not only includes radical political movements and thinkers, but makes them the core of its investigations, presenting them in granular, revealing detail rare to find elsewhere.
Thomas Jeffrey Miley is a lecturer of political sociology at the University of Cambridge.
Table of Contents
Introduction
Part One: Self-Determination and the Nation

Chapter 1: The Nation as Hegemonic Project
Chapter 2: Nationalist Ideology and the State - Co-authored with Dr. Enric Martínez-Herrera
Chapter 3: Towards a New Internationalism
Chapter 4: Rosa Luxemburg's Living Legacy
Chapter 5: 1917 on the Brain
Chapter 6: Anticolonial, Postcolonial, and Decolonial Critiques and Creative Appropriations of Self-Determination: From Fanon to Öcalan

Part Two: Self-Determination and Democracy

Chapter 7: Representative Democracy and the Democratic Confederal Project: Reflections on the Transformation of the Kurdish Movement in Turkey - Co-authored with Luqman Guldive
Chapter 8: Reflections on Revolution, the Spiral of Violence, and the Legitimacy of Self-Defense
Chapter 9: Revolutionary Consciousness beyond Militant Secularism
Chapter 10: Murray Bookchin and Democratic Theory
Self-Determination Struggles Retail Prices
Paperback:
978-1-55164-788-3 $30.00
Hardcover:
978-1-55164-790-6 $60.00
PDF eBook:
978-1-55164-792-0 $12.00