---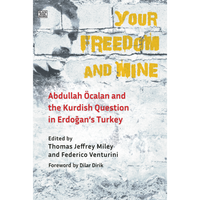 Your Freedom and Mine: Abdullah Öcalan and the Kurdish Question in Erdogan's Turkey

Thomas Jeffrey Miley, Federico Venturini, eds.
"Only free men can negotiate. Prisoners cannot enter into contracts… I cannot and will not give any undertaking at a time when I and you, the people, are not free. Your freedom and mine cannot be separated."
— From a letter by Nelson Mandela during his imprisonment, 10 February 1985
A revolutionary imprisoned on an island fortress may hold the key to peace in the Middle East. From the confines of his Turkish prison cell, Abdullah Öcalan, the leader of the Kurdish Freedom Movement, has proposed a political solution to the interminable Turkish-Kurdish conflict, leading many to describe him as the "Kurdish Mandela." His ideas on direct democracy and women's liberation have even inspired the Rojava Revolution in northern Syria. As Syria exploded in civil war and Turkey descended into tyranny, an international peace delegation of European luminaries led by Mandela's lawyer twice attempted to meet with Öcalan at his prison on İmralı Island. This book is the fruit of these momentous delegations.Your Freedom and Mine offers crucial insight into the dramatic history, reality, and prospects of the Kurdish Question in Turkey by combining historical survey, human rights reports, interviews, personal accounts, geopolitical analysis, and political philosophy. The volume is the remarkable work of 25 contributors, including politicians, academics, journalists, Iceland's former minister of justice, veteran war correspondent Jonathan Steele, and key leaders inside the movement.
Praise for Your Freedom and Mine:
"Shocking revelations make this an emotionally powerful book. It is an objective, extremely well-documented analytical report of Turkish state terrorism against Kurds... Despite the tens of thousands jailed, tortured, and killed, the courageous Kurdish resistance grows, and their pursuit of peaceful democratic solutions continues."
— Dr. Tove Skutnabb-Kangas, internationally renown researcher, author, and advocate at the forefront of the linguistic human rights struggles of Indigenous peoples and minorities.
"Your Freedom and Mine is an encyclopedic account of the Kurdish struggle for freedom and self-determination. It is difficult to think of a better guide than this; it deserves to be read, shared and, above all, acted upon."
— Dr. Derek Wall is the former International Coordinator of the Green Party of England and Wales."
RELATED CONTENT:
Thomas Jeffrey Miley, Ph.D., is a lecturer of political sociology at the University of Cambridge. He received his PhD. from Yale University (2004) and has lectured at Yale University, Wesleyan University, and Saint Louis University (Madrid). He has been a Garcia-Pelayo Research Fellow at the Center for Political and Constitutional Studies in Madrid (2007-2009). He was a delegate in the EU Turkey Civic Commission (EUTCC) International Imrali Peace Delegations in 2016 and 2017. 
Federico Venturini
, Ph.D., is an independent activist-researcher with a PhD in geography from the University of Leeds on social ecology and urban social movements in Rio Di Janeiro. Since 2013, he is a member on the advisory board of the Transnational Institute of Social Ecology. He was also a delegate in the EU Turkey Civic Commission (EUTCC) International Imrali Peace Delegations in 2016 and 2017.
Table of Contents:
Foreword by Dilar Dirik
Prefaces by Thomas Jeffrey Miley and Federico Venturini
Note from the Publisher, by Dimitrios Roussopoulos
Maps and Photographs
Part One: The Historical Context of the Conflict

Thomas Jeffrey Miley, with Guney Yıldız: A History of the Conflict between the Turkish State and the Kurdish Freedom Movement
Adem Uzun: Living Freedom: The Evolution of the Turkish-Kurdish Conflict and Efforts to Resolve It

Part Two: Campaigns of International Solidarity

Havin Guneser: Abdullah Öcalan: A Life of Four Decades of Struggle and Resistance and 16 Years on an Island Prison
Kariane Westrheim: My Encounter with the Kurdish Movement
Michael Gunter and Kariane Westrheim: Notes on the History, Goals and Challenges of the EU-Turkey Civic Commission (EUTCC)
Estella Schmid: The Work of the Peace in Kurdistan Campaign (UK) and the Kurdish National Congress (KNK)
Interview with Simon Dubbins: The Freedom for Öcalan Campaign and the British Trade Union Movement

Part Three: The EUTCC İmralı International Peace Delegations

Joint Statement of the First International İmralı Peace Delegation (Istanbul, Turkey; February 2016)
Thomas Jeffrey Miley: The Plight of the Kurds in Turkey and the Fate of the Middle East
State Terror, Human Rights Violations, and Authoritarianism in Turkey: Report of the Third EUTCC İmralı International Peace Delegation (Istanbul and Diyarbakir, Turkey; February 13-19th, 2017)
Jonathan Steele Reports from the Third İmralı Delegation: Turkey and the Kurds: A Chance for Peace?
Thomas Jeffrey Miley: The Council of Europe and the Death of the Peace Process in Turkey: Report from the Fourth EUTCC İmralı Delegation (Strasbourg, France; April 25-27, 2017)

Part Four: Reflections of the EUTCC Peace Delegates

Janet Biehl: Fighting the Lion Inside the Cage
Radha D'Souza: My Tryst with the Kurdish Freedom Struggle
Miren Gorrotxategi: A Basque Parliamentarian in Turkish Kurdistan
Andrej Hunko: Still a Long Way to Peace: Reconsidering Political Language and Changing Minds about the Kurdish Issue
Ögmundur Jónasson: An Exercise in Understanding
Joe Ryan: "Please Tell My Story"
Ulla Sandbæk: Erdoğan's Turkey: Repressing Comedians, Journalists and Politicians
Federico Venturini: An Activist-Researcher as a Peace Delegate
Julie Ward: The Experience of a European Politician Who Knew Nothing
Francis Wurtz: Ten Powerful Moments of an Invaluable and Outraging Experience

Part Five: Analysing the Democratic Confederal Project in Theory and Praxis

Abdullah Öcalan: Seek the Truth
Reimar Heider: Capitalism and the Kurdish Freedom Movement
Havin Guneser: New Concepts: Democratic Confederalism, Democratic Autonomy
Donald H. Matthews and Thomas Jeffrey Miley: Review of Abdullah Öcalan's "Manifesto for a Democratic Civilization"
Mohammed Elnaiem: Struggling with the Kurdish Freedom Movement: Dispatches from a Black Radical on the Long March for the Freedom of Abdullah Öcalan
Thomas Jeffrey Miley: The Perils and Promises of Self-Determination

Part Six: Democratic Confederalism and the Scramble for the Middle East

Jonathan Steele: Regional and Global Power Politics in the Syrian Conflict
Thomas Jeffrey Miley: The War on Terror, the Refugee Crisis and the Crisis of Europe Darnell
Stephen Summers: Dancing with the Devil
Michael Gunter: Delisting the PKK: Resulting Benefits Selections from the Panel Discussion: "Consolidating Peace, Democracy and Human Rights after Raqqa: Prospects for the Region and the Kurds" (14th Annual EUTCC Conference; December 2017)

Afterword, by Cihad Hammy
Notes on the Contributors
Glossary of Acronyms
Your Freedom and Mine Retail Prices
Paperback:
978-1-55164-668-8$32.99
Hardcover:
978-1-55164-670-1$58.99
PDF eBook:
978-1-55164-672-5 $11.99