---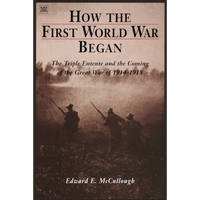 How the First World War Began: The Triple Entente and the Coming of the Great War of 1914-1918

Edward E. McCullough
The current dogma concerning the origins of the First World War supports the militarist myth that wars are caused by stupid, evil, aggressive nations on the other side of the world who refuse to get along with the intelligent, good, peaceful people on this side.
This book attempts to understand the real causes of war and to dissociate propaganda from historical fact. By reviewing the events of the pre-1914 period, the responsibility of Germany for the outbreak of the war is reconsidered.
It begins with a short account of the situation after the Franco-Prussian War, when France was isolated and Germany secure in the friendship of all the other Great powers, and proceeds to describe how France created an anti-German coalition. The account of the estrangement of England from Germany attempts to correct the usual pro-British prejudice and to explain the real causes of this development. The centrepiece of the work is the creation of the Triple Entente.
Edward E. McCullough is Professor Emeritus at Concordia University in Montreal.

How the First World War Began Retail Prices
Paperback:
978-1-55164-140-9 $28.99
Hardcover:
978-1-55164-141-6 $48.99
PDF eBook:
978-1-55164-770-8 $11.99