---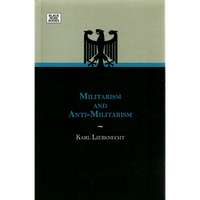 Militarism And Anti-Militarism

Karl Liebknecht
Includes a new introduction by Dimitrios Roussopoulos.
Millions marched and protested against the military invasion of Iraq. Millions more have protested against the military occupation of Afghanistan. These antiwar sentiments publicly expressed are a reflection of a deeply rooted anti-militarism. Yet wars and militarism abound.
War, according to Karl Liebknecht, "is for profit between the capitalist classes of the world powers," and the maintenance of an army ensures their retention of power. In this book, which is one of the great classics of anti-militarism, Liebknecht examines the ways in which militarism is promoted and maintained; reviews the harsh punishments meted out to soldiers, anti-militarists, and war resisters; and surveys the activities of anti-militarists, both specific tactics and the underlying philosophy.
The Duluth Herald (Minnesota) predicted there "will come a time in Germany when Karl Liebknecht, pilloried and imprisoned today for daring to speak the truth, will rank higher in the list of German heroes than the Kaiser." It was an accurate prediction, says Professor Philip Foner, historian at Lincoln University in Pennsylvania, who went on to add, "unfortunately his classic book is out of print." Militarism and Anti-Militarism is now available again, important in these times.
Karl Liebknecht (1871–1919) was a member of the Reichstag who was imprisoned during World War I as an anti-militarist Social Democrat. He was a founding member, with Rosa Luxemburg, of the German Communist Party (KPD) in 1918, and he led an unsuccessful revolt in Berlin in January 1919. Karl Liebknecht and Rosa Luxemburg were murdered by the German right wing immediately thereafter.
192 pages, 5.5x8.5 
Militarism And Anti-Militarism Retail Prices
Paperback:
978-1-55164-340-3 $19.99
Hardcover:
978-1-55164-341-0 $39.99
PDF eBook:
978-1-55164-365-6 $11.99