---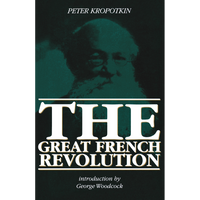 The Great French Revolution

Peter Kropotkin
With an Introduction by George Woodcock
With the international celebrations of the French Revolution as background, the publication of Peter Kropotkin's classic with an introduction by George Woodcock represents the fulfilment of an important documentary need.
The turbulent upheaval that swept in the first mighty revolution in the West, and which had such far ranging consequences, has subsequently been described by a thousand differing pens. From the King's summoning of the Estates General in 1789 to the establishment of the Directory in 1793, the revolution has had many interpretations. But Kropotkin is among the very few who analyses this drama not only as a complex interplay of its leading personalities or a chain of political decisions made from above; rather, he penetrates this surface confusion to describe a great reordering of the economic bases of the ancien régime by the mass of urban workers and the peasantry. He saw the redistribution of land impeded at every step by an aggrandising middle class and by the forces of the counter-revolution inside and outside France.
Kropotkin, as a true historian, was not concerned with merely the period he discussed. He saw it as a climax in a long past and future development. The result is a very skillful and absorbing book, with great momentum, an active and readable style, and a capable use of a mass of details regarding the most obscure but no less important aspects of the French Revolution.
First published in 1909 and long out of print, The Great French Revolution is the finest historical writing from the fluent pen of Peter Kropotkin (1842-1921). The introduction by George Woodcock, the celebrated Canadian author, throws a modern light on the significance and scope of Kropotkin's contribution.
Table of Contents
An Introduction By George Woodcock
Preface
Chapter 1: The Two Great Currents of the Revolution
Chapter 2: The Idea
Chapter 3: Action
Chapter 4: The People before the Revolution
Chapter 5: The Spirit of Revolt: the Riots
Chapter 6: The Convocation of the States-General becomes Necessary
Chapter 7: The Rising of the Country Districts during the Opening Months of 1789
Chapter 8: Riots in Paris and its Environs
Chapter 9: The States-General
Chapter 10: Preparations for the Coup d'Etat
Chapter 11: Paris on the Eve of the Fourteenth
Chapter 12: The Taking of the Bastille
Chapter 13: The Consequences of July 14 at Versailles
Chapter 14: The Popular Uprisings
Chapter 15: The Towns
Chapter 16: The Peasant Uprising
Chapter 17: August 4 and its Consequences
Chapter 18: The Feudal Rights remain
Chapter 19: Deceleration of the Rights of Men
Chapter 20: The Fifth and Sixth of October 1789
Chapter 21: Fears of the Middle Classes – the New Municipal Organization
Chapter 22: Financial Difficulties – Sale of Church Property
Chapter 23: The Fete of the Federation
Chapter 24: The "Districts" and the "Sections" of Paris
Chapter 25: The Sections of Paris Under the New Municipal Law
Chapter 26: Delays in the Abolition of the Feudal Rights
Chapter 27: Feudal Legislation in 1790
Chapter 28: Arrest over the Revolution in 1790
Chapter 29: The Flight of the King – Reaction – End of the Constituent Assembly
Chapter 30: The Legislative Assembly – Reaction in 1791-1792
Chapter 31: The Counter-Revolution in the South of France
Chapter 32: The Twentieth of June 1792
Chapter 33: The Tenth of August: Its Immediate Consequences
Chapter 34: The Interregnum – The Betrayals
Chapter 35: The September Days
Chapter 36: The Convention – The Commune – The Jacobins
Chapter 37: The Government – Conflict with the Convention – The War
Chapter 38: The Trial of the King
Chapter 39: The "Mountain" and the "Gironde"
Chapter 40: Attempts of the Girondins to Stop the Revolution
Chapter 41: The "Anarchists"
Chapter 42: The Cause of the Rising on May 31
Chapter 43: Social Demands – State of Feeling in Paris – Lyons
Chapter 44: The War – The Rising in La Vendée – The Trechery Dumoriez
Chapter 45: A New Rising Rendered Inevitable
Chapter 46: The Insurrection of May 31 and June 2
Chapter 47: The Popular Revolution – Arbitrary Taxation
Chapter 48: The Legislative Assembly and the Communal Lands
Chapter 49: The Lands Restored to the Communes
Chapter 50: Final Abolition of the Feudal Rights
Chapter 51: The National Estates
Chapter 52: The Struggle against Famine – The Maximum – Paper Money
Chapter 53: Counter-Revolution in Brittany – Assassination of Marat
Chapter 54: The Vendée – Lyons – The Risings in Southern France
Chapter 55: The War – The Invasion Beaten Back
Chapter 56: The Constitution – The Revolutionary Movement
Chapter 57: The Exhaustion of the Revolutionary Spirit
Chapter 58: The Communist Movement
Chapter 59: Schemes for the Socialisation of Land, Industries, Means of Subsistence and Exchange
Chapter 60: The End of the Communist Movement
Chapter 61: The Constitution of the Central Government – Reprisals
Chapter 62: Education – The Metric System – The New Calendar – Anti-Religious Movement
Chapter 63: The Suppression of the Sections
Chapter 64: Struggle Against the Hebertists
Chapter 65: The Fall of the Hebertists – Danton Executed
Chapter 66: Robespierre and his Group
Chapter 67: The Terror
Chapter 68: The 9th Thermidor – Triumph of Reaction
Conclusion
644 pages; 1989

Part of our Collected Works of Peter Kropotkin
ISSN: 1188-5807
The Great French Revolution Retail Prices
Paperback:
978-0-921689-38-6 $29.99
Hardcover:
978-0-921689-39-3 $59.99
PDF eBook:
978-1-55164-612-1 $11.99