---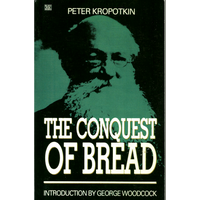 The Conquest of Bread

Peter Kropotkin
Introduction by George Woodcock
The Conquest of Bread presents the clearest statement of Kropotkin's anarchist social doctrines. It possesses a lucidity of style not often found in books on social themes. In Kropotkin's own description, the book is "a study of the needs of humanity, and the economic means to satisfy them". Taking the Paris Commune as its model, its paramount aim is to show how a social revolution can be made and how a society, organized on libertarian lines, can then be built on the ruins of the old.
From Stirner's individualism, Proudhon's mutualism and Bakunin's collectivism Kropotkin proceeded to the principle of "anarchist communism", by which private property and inequality of income would give way to the free distribution of goods and services. In summing up his beliefs he said,
"The anarchists conceive a society in which all the mutual relations of its members are regulated… by mutual agreements between the members of the society and by a sum of social customs and habits…continually developing and continually readjusting in accordance with the ever-growing requirements of a free life stimulated by the progress of science, invention and the steady growth of higher ideals." 
In his introduction, George Woodcock throws a modern light on the significance and scope of Kropotkin's work.
George Woodcock is one of Canada's most distinguished men of letters- journalist, poet, and author of more than forty books.
Table of Contents
An Introduction by George Woodcock
Preface by Elisee Reclus To The First French Edition
Preface To The 1907 Edition
Chapter 1: Our Riches
Chapter 2: Well-Being For All
Chapter 3: Anarchist Communism
Chapter 4: Expropriation
Chapter 5: Food
Chapter 6: Dwelling
Chapter 7: Clothing
Chapter 8: Ways and Means
Chapter 9: The Need for Luxury
Chapter 10: Agreeable Work
Chapter 11: Free Agreement
Chapter 12: Objections
Chapter 13: The Collectivist Wages System
Chapter 14: Consumption and Production
Chapter 15: The Division of Labour
Chapter 16: The Decentralization of Industry
Chapter 17: Agriculture
326 pages; 1990

Part of our Collected Works of Peter Kropotkin
ISSN: 1188-5807
The Conquest of Bread Retail Prices
Paperback:
978-0-921689-50-8 $24.99
Hardcover:
978-0-921689-51-5 $49.99
PDF eBook:
978-1-55164-357-1 $11.99