---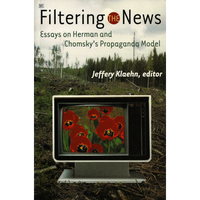 Filtering the News: Essays on Herman and Chomsky's Propaganda Model

Jeffery Klaehn, ed.
Filtering The News explores the continuing critical relevance of Herman and Chomsky's influential propaganda model for the analysis of media reporting of the environment, the war against Iraq, journalism post 9/11, media reporting of the Israel/Palestine conflict and other case studies.
Herman and Chomsky's 'propaganda model' argues that there are five classes of 'filters' in society which determine what is news; in other words, what gets printed in newspapers or broadcast by radio and television. They are: ownership (is the story in line with the media owners interests); advertising (is the story in line with the advertisers interests); sourcing (does the story come from government departments and/or other powerful players); flack (if the story is aired, can the subjects of it pose a real threat, like the government, big advertisers and other organized groups); and ideology (does the story justify political manoeuvring and defend corporate interests around the world). Whether a news item is going to be used by the media, or not, is going to depend on whether it can pass through these filters.
Filtering the News begins with a critical review, and assessment, of the propaganda model, then applies Herman and Chomsky's model to a range of ongoing news events including: Bush's war propaganda machine and the American mainstream media; Israeli propaganda; El Salvador and the question of intellectual responsibility; news coverage of near-genocide in occupied East Timor; the media on the environment; and Dan Rather and the problem with patriotism, American journalism, post-9/11. In the final chapters, Herman and Chomsky's propaganda model is revisited, and several common criticisms of the model are reflected upon and scrutinized.
Contributors include Valerie Scatamburlo-D'Annibale, Bob Everton, Peter Eglin, Robert Jensen, Jeffery Klaehn, James Winter, and Robert Babe.

Jeffery Klaehn has been published in a wide range of scholarly journals. He is editor of Bound by Power: Intended Consequences (Black Rose Books) and of Comic Books and Comic Book Culture: Studies in Pop Culture.

"Jeffery Klaehn is to be congratulated for bringing together this significant collection of essays by leading scholars in the field of media and communication studies which the general public, students, and scholars alike will find invaluable." --Bob Franklin, Editor of Journalism Studies, Professor of Journalism, Media and Cultural Studies, Cardiff University

"By itself, the chapter on the pretentious Dan Rather is worth twice the price of the book. Extremely timely." - Barrie Zwicker, host of The Great Conspiracy

"We all know we cannot believe everything in the mainstream press. Filtering the News tells us, in disturbing detail, just how true this is and describes the extraordinary lengths to which the media will go in order to reinforce the dominant ideology of the Washington Consensus. Needed: more honest analysis like the essays in this provocative book." - Maude Barlow, Council of Canadians
2005: 248 pages
Filtering the News Retail Prices
Paperback:
9781551642604 $24.99
Hardcover:
9781551642611 $53.99
PDF eBook:
9781551645728 $11.99