---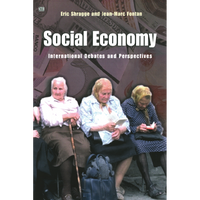 Social Economy : International Debates and Perspectives

Eric Shragge & Jean-Marc Fontan, eds.
Shaped by globalization, societies are undergoing important changes. As a consequence, new practices have emerged and new importance is accorded to local economies. The notion of a social economy was a practical response to the impact of globalizaton on local economies. Social economies were also meant to help any negative impact resulting from the downloading by governments of their economy's responsibilities. Various community economic development corporations were put into place as a result of these new trends. Have these new local corporations helped in alleviating the negative impact of the `new economy'?
These essays deal with the social economy from different vantage points and raise questions which reflect them. They link practice and policy questions to issues such as the reorganization of work, the shift of social services to the community, and the strengths, limits and potential of practice in the social economy.
Eric Shragge was a teacher of social policy and community organization at the School of Social Work, McGill University. He is the editor of Community Economic Development (Black Rose Books: 1997), and Bureaucracy and Community with Linda Davies.
Jean-Marc Fontan was a professor of sociology at Université du Québec à Montréal. Formerly, he coordinated the Institut formation en développement économique communitaire. He has co-edited Entre la métropolisation et le village global, with Juan-Luis Klein, and Diane-Gabrielle Tremblay (Presses de l'Université du Québec, 1999).
Volume 9 in Critical Perspectives on Historic Issues, from the work of the Karl Polanyi Institute of Political Economy at Concordia University in Montréal.
Table of Contents
Chapter 1: Eric Shragge and Jean-Marc Fontan Tendencies, Tensions and Visions in the Social Economy
Chapter 2: Enzo Mingione Market and Society: The Social Embeddedment of the Economy
Chapter 3: Michele Cangiani About the Possibility of Reversing the Process of Commodification: The Scope of the `Non-profit Economy
Chapter 4: Jack Quarter The Social Economy and the Neo-Conservative Agenda
Chapter 5: Paul Leduc Browne The Neo-Liberal Uses of the Social Economy: Non-Profit Organizations and Workfare in Ontario
Chapter 6: Andrea Levy Jobs, Work, and the Social Economy
Chapter 7: Kathryn Church Alternative Economies: Building the Social from the Economic
Chapter 8: Benoît Lévesque and Bill Ninacs The Social Economy in Canada: The Québec Experience
Chapter 9: Bill Ninacs Social Economy: A Practitioner's Viewpoint
Chapter 10: Jean-Luc Souchet The Mutual Insurance System in Loire-Atlantic: Ten Generations of Supportive Innovations
Chapter 11: Louis Favreau Globalization and the Social Economy: A North-South Perspective
Chapter 12: Michael Toye Selected Resources on the Social Economy
2000: 206 pages, bibliography
ISSN: 1195-1869
Social Economy Retail Prices
Paperback:
978-1-55164-162-1 $24.99
Hardcover:
978-1-55164-163-8 $53.99
PDF eBook:
978-155164-543-8 $11.99