---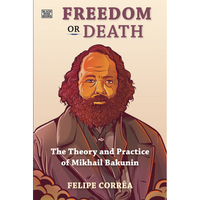 Freedom or Death: The Theory and Practice of Mikhail Bakunin

Felipe Corrêa
"Bakunin's contribution to the revolutionary project was not an exposition of political economy or an exhortation to violence. It was his reasoned understanding of the radical potential of the oppressed, even when they seemed defeated and reactionary, and his powerful critique of those who seek to lead them into freedom, whether these were liberals, social democrats, or some varieties of Marxists. Felipe Corrêa's book is a brilliant, detailed exposition of Bakunin's thought that shows his importance as a historical figure and as a theorist for activists today." – Mark Leier is Professor of Working Class and Left-Wing History at Simon Fraser University, Canada. He is the author of Bakunin: The Creative Passion. A Biography (Seven Stories, 2009).
"Among the world's foremost scholars of anarchism, Felipe Corrêa's definitive study of Bakunin's life, ideas, and works brings a renewed urgency to adapting concepts of autonomy, worker's self-management, and revolution to struggles against capitalism and the state in the twenty-first century." – Mark Bray is Professor of History at Rutgers University, USA. He is the author of Antifa: The Anti-Fascist Manual (Melville, 2017) and The Anarchist Inquisition: Assassins, Activists, and Martyrs in Spain and France (Cornell, 2022).
Translated from the Portuguese by Jonathan Payn; preface by Eloísa Benvenutti de Andrade and epilogue by Rocio Soledad Lescano.
Freedom or Death is a groundbreaking interdisciplinary study of the life and work of the Russian revolutionary and titan in the history of anarchism Mikhail Aleksandrovitch Bakunin (1814–76). Brazilian scholar Felipe Corrêa offers in-depth analysis of Bakunin's political theory produced between 1836 and 1876, anchoring it in his political-intellectual trajectory. The book is a history of Bakunin's political thought that encompasses all of his writings, his most important letters, and dialogue with his principal interlocutors, as well as synthesizing all previous scholarship.

Corrêa systematically divides Bakunin's works into three major periods – From Philosophy to Praxis (1836–43), Revolutionary Pan-Slavism (1844–63), and From Socialism to Anarchism (1864–76) – to provide historical context and to fully understand the development and ultimate coherence of his radical thought.

Corrêa analyzes Bakunin's landmark contributions to the shaping of anarchism (and of revolutionary syndicalism) and his considerable influence on other militants and on a sector of the European workers' movement. Both during his life and afterwards, his thought informed labour, Left and anti-imperialist organizing on all continents. Bakunin's theory and practice continues to hold great power for the global Left today, as anarchism offers a means of liberation from tyranny that has never been more urgent.

Felipe Corrêa is Professor of Social Sciences and Research at Mackenzie Presbyterian University, Brazil, and co-founder of the Institute for Anarchist Theory and History (ITHA-IATH). His books include Bandeira Negra: Rediscutindo o anarquismo (Curitiba, 2015) and Hacia un Pueblo Fuerte: Anarquismo, organización y poder popular (Madrid, 2020). He also wrote the chapter "The Global Revival of Anarchism and Syndicalism" published in the book The Cambridge History of Socialism, vol. I, edited by Marcel van der Linden (Cambridge, 2023).
Eloísa Benvenutti de Andrade is a Brazilian anarchist and syndicalist militant who holds a PhD in philosophy and is a professor at Cásper Libero University in São Paulo.

Rocio Soledad Lescano is an Argentinian anarchist and syndicalist militant, a historian and a professor at the National University of Rosário.

Freedom or Death Retail Prices
Paperback SEPT 2024:
978-1-55164-812-5 $29.95
Hardcover DEC 2024:
978-1-55164-814-9 $69.95
PDF eBook SPRING 2025:
978-1-55164-816-3 $11.95