---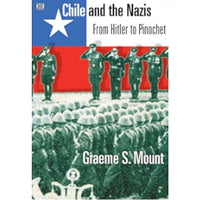 Chile and the Nazis: From Hitler to Pinochet

Graeme S. Mount
2001; 204pp
After the Japanese attack on Pearl Harbor and Hitler's subsequent declaration of war upon the United States, Chile's reluctance to sever diplomatic ties with Nazi Germany allowed it to maximize its opportunities there, influencing Chilean politicians, military operations, and the popular media. This is the story of Chile, of its efforts to maintain neutrality, its abandonment of neutrality, and the significance—long-term and short-term—of those actions.
Based on documentary evidence from the archives of the Chilean Foreign Office, and from US, British, German, and (intercepted) Japanese documents, Mount is one of the first authors to provide evidence of the events and circumstances surrounding Chile's refusal to comply with the will of the White House and the State Department, in 1942, that they sever diplomatic relations with Nazi Germany, Fascist Italy, and Imperial Japan. According to his findings, this refusal, fuelled by bribes to influential politicians and journalists, a respect for the German-Chilean electorate in a presidential election year, a fear of what Nazi submarines might do to Chilean shipping and the Chilean coastline, and a desire to demonstrate independence, allowed these countries to use their embassies as centres of espionage that radiated as far north as Canada. Mount concludes that although the government of President Rios finally did make the break, sympathy for the Nazis and their values did not disappear but continued to have an impact on Chile into the era of Augusto Pinochet, head of state from 1973 to 1990.
Graeme S. Mount teaches history at Laurentian University in Sudbury, Ontario. He is author of many books dealing with Canada-United States relations. His most recent include The Caribbean Basin: An International History and Invisible and Inaudible in Washington: American Policies toward Canada during the Cold War.
Chile and the Nazis Retail Prices
Paperback:
978-1-55164-192-8 $19.99
Hardcover:
978-1-55164-193-5 $48.99