---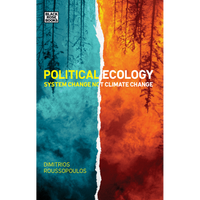 Political Ecology: System Change Not Climate Change

Dimitrios Roussopoulos
SYSTEM CHANGE NOT CLIMATE CHANGE! The cry reverberated throughout the streets of Paris during tense 2015 COP21 climate negotiations. It was as much a demand as it was an indictment of the failure of existing political institutions to respond to our world's ecological crisis. In an era of slow-motion apocalypse, with over 3,500 international environmental agreements to date, where did everything go wrong?
In this new and greatly expanded edition of his 1991 classic, Dimitrios Roussopoulos delves into the history of environmentalism to explain the failure of the State management of the ecological crisis. He summarizes the various responses of civil society and explores the prospects of channelling environmentalist aspirations into political alternatives, emphasizing the ideas of social ecology and the central role of democratic neighbourhoods and cities in developing alternatives. Ecologists, Roussopoulos argues, aim for more than simply protecting the environment they call for new communities, new lifestyles, and a new way of doing politics.
This edition also includes a new preface analyzing the implications of Trump's presidency for climate politics and an extensive new conclusion analyzing the Paris Accord. Revised, expanded, and updated, Political Ecology is a classic that provides an essential and timely history of the environmental movement now when we need it most. This book has been translated into French, Turkish, and Greek and is being translated in Spanish and German.
Dimitrios Roussopoulos is a community organizer, writer, and public speaker who has lectured widely on urban ecology. From the 1960s to the present he has been active in the disarmament and anti-war movement, urban ecology, and the cooperative economy. Roussopoulos has published 15 books, some translated into several languages.
Praise for Political Ecoclogy
"A concise and useful overview... a good analysis of green politics."
— Kick It Over

"A useful and timely history of the environmental movement and its philosophical bases."
— Books in Canada

"Read this book. You might realize you are an environmentalist, as opposed to an ecologist. The difference is important."
— L'interactif

"A thoroughly researched account of the history of human attempts to repair anthropogenic damage to the ecosystem. I learned much from it."
—David Dobereiner, author of The End of the Street: Sustainable Growth Within Natural Limits
200 pages; 2018

Table of Contents
Preface of the 2019 Edition
Preface of the 2015 Edition
Chapter 1: The State Management of the Environment
Chapter 2: Citizens Responses to the Plight of the Earth
Chapter 3: Political Ecology and Social Ecology
Chapter 4: A Road Map Beyond Environmentalism
Chapter 5: The New Politics of Social Ecology
Epilogue
Postscript: After Paris COP21 What Next?
Political Ecology Retail Prices
Paperback:
978-1-55164-634-3 $22.99
Hardcover:
978-1-55164-636-7 $82.99
PDF eBook:
978-1-55164-638-1 $11.99