---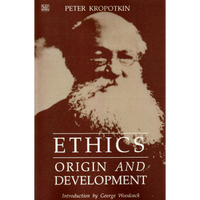 Ethics : Origins and Development

Peter Kropotkin
Edited with an Introduction by George Woodcock
Ethics is the swan song of the great humanitarian, scientist, and anarchist, Peter Kropotkin. It constitutes, as it were, the crowning work and the resume of all his scientific, philosophical, and sociological views, at which he arrived in the course of his long and unusually rich life.  
Starting with the moral principle in nature, to the moral conceptions of primitive peoples, Kropotkin traces the development of moral teachings from Ancient Greece, Christianity and the Middle Ages, through to the 19th century philosophers. In this way, Ethics gives answers to two fundamental problems of morality: its origin and historical development, and its goals and standards.
A realist and a revolutionist, Kropotkin regarded ethics not as an abstract science of human conduct, but as a concrete scientific discipline, whose object it was to inspire people in their practical activities. According to his theory, mutual aid, justice and self-sacrifice are the three elements of morality and these elements lie at the basis of human ethics. He held that ethics should be one and the same for all people – that no matter what class or party one might belong, we were all, first of all, human beings.  
In his introduction, George Woodcock, a great humanitarian in his own right, describes the background from out of which Kropotkin was moved to write this unforgettable work. He introduces the reader, not only to the political and social climate, but also to the man and his innermost concerns.  Ethics is the 8th volume of The Collected Works of Peter Kropotkin, published by Black Rose Books.
Table of Contents
Introduction by George Woodcock
Translators Preface
Introduction by the Russian Editor
Chapter I: The Present Need for Determining the Bases of Morality 
Chapter II: The Gradually Evolving Bases of the New Ethics
Chapter III: The Moral Principle in Nature
Chapter IV: Moral Conventions of Primitive People
Chapter V: Development of Moral Teaching – Ancient Greece
Chapter VI: Christianity – The Middle Ages – The Renaissance
Chapter VII: Development of Moral Teachings in the Modern Era - 17th and 18th Centuries
Chapter VIII: Development of Moral Teachings in the Modern Era - 17th and 18th Centuries Continued
Chapter IX: Development of Moral Teachings in the Modern Era – End of the 18th Century and Beginning of the 19th Century
Chapter X: Development of Moral Teachings – the 19th Century
Chapter XI: Development of Moral Teachings – the 19th Century Continued
Chapter XII: Development of Moral Teachings – the 19th Century Continued
Chapter XIII: Development of Moral Teachings – the 19th Century Concluded
Conclusion
385 pages; 1993
Part of our Collected Works of Peter Kropotkin
ISSN: 1188-5807
Ethics Retail Prices
Paperback:
978-1-895431-36-0 $26.99
Hardcover:
978-1-895431-37-7 $54.99
PDF eBook:
978-1-55164-614-5 $11.99