---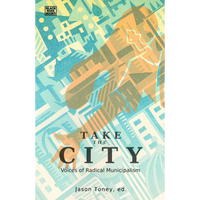 Take the City: Voices of Radical Municipalism

Jason Toney, ed.


Coming Soon!
With rapid increases in urban populations, there is an urgent need to transform our world's cities in keeping with ecological imperatives and democratic principles. A growing worldwide citizen movement is attempting to challenge bureaucratic administrations and replace the politics of fear with neighbourhood power, direct democracy, and solidarity. They believe that threats of capitalism, totalitarianism, and climate change require imaginative political resistance rooted where they live.
Combining political theory, philosophy, history, and intimate narrative, Take the City! presents an expansive view of municipalist movements around the world. With over twenty contributors, including David Harvey, this anthology provides crucial insights into the challenges ahead by looking at and beyond municipal electoral politics. Stories of diverse regions and issues illuminate the nuances of municipalist movements of the past and present, providing a roadmap of the fight for our future. From Seattle to Kurdistan, Burlington to Oaxaca, Barcelona to Mississippi, and Vienna to Montreal, contributors carefully consider the intertwined questions concerning current crises in housing, the environment, democracy, and capitalism.
Contributors include David Harvey, Peter Marcuse, Brian Tokar, Nazan Üstündağ, Margit Mayer, Anna Kruzynski, Jonathan Durand Folco, members of Symbiosis, Robert Kaminski, Donald Cuccioletta, Barucha Peller, Antje Dieterich, Jonny Gordon-Farleigh, and Austin Krauss.
Jason Toney is an editor, researcher, and activist based in the United States.
Table of Contents

Acknowledgements
Jason Toney: Introduction.
The Challenges Ahead
Brian Tokar: Communalism Against Climate Chaos .
Robert Kaminski: The Crisis of Late Capitalism in Seattle .
Peter Marcuse, Margit Mayer, and David Harvey: Three Lectures on Radical Urbanism .
Building Democracy through Municipal Electoral Politics
Veronika Duma and Hanna Lichtenberger: Remembering Red Vienna .
Donald Cuccioletta: The FRAP (Political Action Front) 1970–1974: The First Experience of Municipal Radicalism in Montréal .
Dual Power and Taking the City beyond Elections
Nazan Üstündağ: Bakur Rising: Democratic Autonomy in Kurdistan 
Barucha Peller: Self-Reproduction and the Oaxaca Commune 
Jonathan Durand Folco: Beyond Projet Montréal: From Progressive Neoliberalism to Economic Democracy 
Jonny Gordon-Farleigh: An Interview with Kali Akuno 
Possible Futures
Antje Dieterich: Urban Sanctuary: The Promise of Solidarity Cities
Austin Krauss: How Hip Hop Can Save Us 
Anna Kruzynski: From Social Ecology to Community Economies: Towards Better Livelihoods
Annex
The FRAP Manifesto
About the contributors
186 pages; 5.5 x 8.5
Take the City! Retail Prices
Paperback:
978-1-55164-727-2 $19.95
Hardcover:
978-1-55164-729-6 $69.99 Available December 2021
PDF eBook:
978-1-55164-731-9 $11.99 Available December 2021