---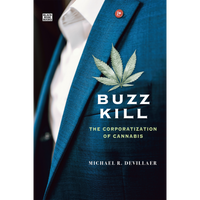 Buzz Kill: The Corporatization of Cannabis

Michael R. DeVillaer
PAPERBACK AVAILABLE NOW!
HARDCOVER JAN 2024 / PDF EBOOK JUN 2024
A wide-ranging exploration of the legalization of cannabis in Canada and what we can learn from it.
Cronyism, greed, and corruption trumped social justice and public health in Canada's legalization of cannabis. How did we get here? Where are we going? More humane drug policy—which prioritizes public health over corporate profits—is possible. Canada legalized the sale of recreational cannabis in 2018. Buzz Kill recounts the political and corporate collusion in creating an industry out of thin air that supplanted an illicit century-old industry. Drawing on lessons from alcohol and tobacco regulation in Canada and the United States, this book shows that, rather than basing policy choices on evidence, Canada's political elites created a new regulated industry that would line their own pockets.
Michael DeVillaer is an assistant professor in the Department of Psychiatry and Behavioral Neurosciences at McMaster University, where he is also a faculty associate with the Centre for Medicinal Cannabis Research and with the Peter Boris Centre for Addictions Research. http://drugpolicyalt.ca/
"Thoughtful and well-researched, this book explores the full breadth of this process from its early conception through to the present-day and draws links between the economic, political and policy components of this drastic policy shift. Buzz Kill is a must-read for everyone concerned about Canada's drug policies and for those who want to learn lessons from this radical experiment."
– Malcolm G. Bird, PhD, Associate Professor, Department of Political Science, University of Winnipeg
"This important book brings needed critical perspective to cannabis legalization as a public health achievement. DeVillaer's exposé of broken promises, corruption, and outsized corporate influence is essential reading for drug policy observers in Canada and jurisdictions seeking to avoid the same mistakes."
– Andy Hathaway, Professor of Sociology, University of Guelph
"A must-read for anyone interested in the evolution of Canada's drug policy and the program of decriminalization that the author concludes
is desperately needed to get us out of this mess."
– Steven Bittle, Department of Criminology, University of Ottawa

"Buzz Kill is a compelling story of how the legalization of cannabis unfolded and how the public good was subverted to corporate interests and those of its government enablers."
– Bruce Campbell, Faculty of Environmental and Urban Change, York University
Table of Contents:
Section I: Laying the Foundation

1. Playing with Our Body Chemistry: Drugs and Society

2. Persuasion and Influence

Section II: The Setup

3. A Brief History of Cannabis Policy

4. Cannabis Decriminalization: A Proven Success Abandoned

5. A New Legal Drug Industry: What Could Possibly Go Wrong?

Section III: The Main Event

6. Legalization for Recreational Use in Canada: How It Really Happened and Why

7. Post-Legalization: More Regulatory Non-Compliance and Corporate Crime

8. Green Rush in The Red

Section IV: Preparing for The Future

9. Let's Try Something Different

10. What's Next in Drug Policy Reform?

References
Buzz Kill Retail Prices
Paperback:
978-1-55164-795-1 $30.00 NOW SHIPPING
Hardcover:
978-1-55164-797-5 $60.00 Available January 2024
PDF eBook:
978-1-55164-799-9 $12.00 Available June 2024