---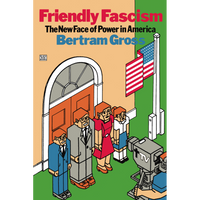 Friendly Fascism: The New Face of Power in America

Bertram Gross
The 8th November 2016 marked a startling new era in American political life. After the creeping ascent of Right wing authoritarian parties in the UK and Europe Donald Trump's victory in the presidential election brought an alarming form of "alt-right" neo-conservativism into the American political mainstream. Many aspects of this descent into the darkness of fascism was predicted by Bertram Gross in Friendly Fascism, a provocative and original critique of a subtle yet growing fascism in American political life. Gross shows that the chronic problems faced by the U.S. in the late twentieth century required increasing collusion between big business and big government to manage society in the interests of the privileged and powerful. The resulting "friendly fascism", Gross suggests, lacks the dictatorships, public spectacles and overt brutality of 20th century fascism, but has at its root the same denial of individual freedoms and democratic rights. No one who cares about the future of democracy can afford to ignore the frightening realities of Friendly Fascism.
"This is the best thing I've ever seen on how America might go fascist democratically. Friendly Fascism offers a very clear exposition of where America is, and how we got there."
 -- William Shirer, American journalist and war correspondent and author of The Rise and Fall of the Third Reich.
"First-rate… a fascinating, provocative job. Bertram Gross has written an important book, and it deserves the widest possible audiences." 
 -- Michael Harrington, American democratic socialist, writer, and author of The Other America.
"At a time of escalating political uncertainty, when the forces of totalitarianism threaten once more to crawl out of the American woodwork, Friendly Fascism is a powerful tool -- better yet, a weapon -- that can help us avert a distinctly unfriendly future."
 -- Alvin Toffler, American futurist, businessman, and author of Future Shock.
"A clairvoyant classic."
-- Robert Kuttner,The Huffington Post
TABLE OF CONTENTS
Acknowledgements

Preface to the paperback edition

Introduction: A Patriotic Warning
PART ONE: THE ROOTS OF FRIENDLY FASCISM

1. The Rise and Fall of Classic Fascism

2. The Takeoff Toward a New Corporate Society

3. The Mysterious Establishment

4. The Side Effects of Success

5. The Challenge of a Shrinking Capitalist World

6. Old Crises in New Forms

PART TWO: THE SPECTER OF FRIENDLY FASCISM

7. The Unfolding Logic

8. Trilateral Empire or Fortress America?

9. The Friendly Fascist Establishment

10. Friendly Fascist Economics

11. Subverting Democratic Machinery

12. Managing Information and Minds

13. Incentives for System Acceptance

14. The Ladder of Terror

15. Sex, Drugs, Madness, Cults

16. The Adaptive Hydra

17. The Myths of Determinism

PART THREE: TRUE DEMOCRACY

18. It Hasn't Happened Yet

19. The Long-Term Logic of Democracy

20. The Democratic Logic in Action

21. What Can You Do?

Notes

About the Author

Index
1989: 410 pages, index
Friendly Fascism Retail Prices
Paperback:
9780920057230 $27.99
Hardcover:
9780920057223 $53.99
PDF eBook:
9781551647661 $11.99