---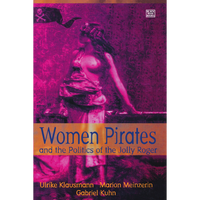 Women Pirates and the Politics of the Jolly Roger

Ulrike Klausmann, Marion Meinzerin, and Gabriel Kuhn
Translated by Nicolas Levis
There have always been women among pirates and sea robbers. Metaphors of mysterious and destructive femininity may have perennially been assigned to the sea and its dangers, but the real women who sailed on ships steered them, sank with them, commanded them, even commandeered them have been ignored by a history written by and for patriarchal men.
Ample evidence of women pirates and even feminine piracy nonetheless abounds: beginning with ancient legends of Amazon sailors in several cultural traditions, and continuing uninterrupted through a wealth of confirmed historical figures, down to the present.
Women Pirates and the Politics of the Jolly Roger is an account of piracy through three millennia, in histories of women and men sailing on four seas: the Chinese Straits, the Mediterranean, the Atlantic Ocean and the Caribbean. Writing with passion and humour, but without romanticizing, or ignoring the unsavoury side of some of their heroines, the authors turn history on its head. Nor do they forget the practical details, even including genuine recipes for shark and other delights.
The volume is introduced by Gabriel Kuhn's essay on anarchism and piracy, "Under the Death's Head." Considering the history of Caribbean piracy and drawing on Stirner and Foucault among others, Kuhn describes a breaking out of structured obedience, an escape from perpetual supervision, a plunge into unpredictability, danger, "everything that makes strong, free action."
"The stories are lively and exciting. You'll definately be able to taste the sensation of piracy, as the authors have included a number of actual recipes prepared on the high seas. This book is a hearty read which I would recommend to the saltiest of seadogs as well as your average landlubber."—Feminist Bookstore News

"Carefully researched and vividly told."—In These Times

"For those who like thier history marinated in oral tradition and spiced with socialist-feminist analysis the language is blunt, sly, poetic, and innocent of academic jargon. Also includes regional recipes; readers will want to try the Piquant Shark Schnitzel from the Caribbean."—Rain Taxi
245 Pages, index, illustrations, recipes
Women Pirates and the Politics of the Jolly Roger Retail Prices
Paperback:
978-1-55164-058-7 $19.99
Hardcover:
978-1-55164-059-4 $48.99
PDF eBook:
978-1-55164-356-4 $11.99