---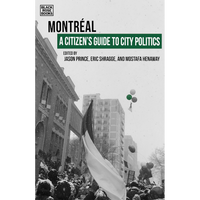 Free local pickup and bicycle delivery options are available at checkout!
A Citizen's Guide to City Politics: Montréal


Eric Shragge, Jason Prince and Mostafa Henaway, eds.
AVAILABLE NOW!
Book launch video!
Bravo! A hard-hitting exploration of Montreal issues just in time for the city's 2021 election. Progressive yet non-partisan. Full of savvy on what city hall could do about climate change, public transit, policing, tax-system reform, sprawl, the REM, democratic reform and tenants rights. Initiates a needed discussion on repositioning Montreal in a post-pandemic world.

— Henry Aubin, journalist and author of the 1977 bestseller: Les vrais propriétaires de Montréal, published by Éditions l'Étincelle
World cities face persistent tension between the pull of globalization and the needs of citizens. Conventional political parties present milquetoast solutions that accommodate the interests of business. Meanwhile, citizens in cafes, meeting halls, on the streets, and now in virtual forums are rising to the challenge of imagining new and radical municipal policy from the ground up. This book explores the future of Montreal's citizens' movements at a moment defined by the threats of pandemic, austerity, housing speculation and insecurity, and racism. It pairs contemporary analysis with an exploration of Montreal's rich municipal history. The editors of A Citizen's Guide to City Politics gathered more than twenty activists, urban planners, and thinkers to address the major problems facing Montrealers and propose alternatives from a citizen's perspective. Municipal movements everywhere will see their own struggles reflected in this guide and will find inspiration for debate and action.
Eric Shragge taught community organizing and development at Concordia and now works with Mostafa Henaway as an organizer at the Immigrant Workers Centre. Jason Prince is an urban planner and social economy expert who teaches at Concordia University in Montreal.
Table of Contents
Introduction
- Mostafa Henaway, Jason Prince, and Eric Shragge 
Preface
- Luc Ferrandez 
Montreal, between Oral Tradition and Historical Archives
- Eric Pouliot-Thisdale 
Power and the City
- Mostafa Henaway, Jason Prince, and Eric Shragge 
PART I. NATURE AND THE CITY 
Despair and Hope: A Story of Montreal's Natural Spaces
- Patrick Barnard 
Montreal's COVID-19 Pandemic: A Crisis of Inequality
- Elizabeth Leier 
Montreal's Changing Climate: There Is No Turning Back
- Joey El-Khoury 
PART II. MOVING IN THE CITY
Debating Public Transit: What about a Regional Tramway?
- Luc Gagnon and Jean-François Lefebvre 
F*** the Car: A New Vision for Transport in the Montreal Region
- Jason Prince 
Beyond Critical Mass: Scaling up Bike Infrastructure in Montreal
- Bartek Komorowski 
Streets That Breathe—Controlling Cars
- Claire Morissette 
PART III. PLANNING THE CITY 
Solidarity Architecture and Social Urbanism
- Christelle Proulx Cormier and Ron Rayside 
The Reconstruction of Montreal's Chabanel District
- Mostafa Henaway and Norma Rantisi 
PART IV. THE ECONOMY AND THE CITY
The City as Sweatshop
- Mostafa Henaway 
The Social Economy and the City
- Jason Prince 
PART V. HOUSING THE CITY 
Municipal Government: Ally or Adversary of Montreal's Co-operative Housing Sector?
- Jacob Ryan 
Community Housing: Leveraging Our Collective Assets
- Jean-Pierre Racette 
How to Fight Your Landlord: Gentrification and Tenant Organizing in Montreal
- Jon Milton 
PART VI. GOVERNING THE CITY 
Power and City Hall 
- Linda Gyulai 
Consultation, Participation, or Power: What's in It and for Whom? 
- Eric Shragge 
PART VII. SOCIAL JUSTICE AND THE CITY 
Contesting Racism: Challenging Policing in Montreal, An Interview 
- Robyn Maynard 
Whose City? Claiming Justice for Indigenous Peoples
- Christopher Curtis 
Pushing Municipal Boundaries: Experiences of Montreal's Immigrant Workers Centre 
- Cheolki Yoon 
PART VIII. UPPITY 'HOODS AND THE CITY 
Milton Parc: Grabbing and Keeping Community Control
- Nathan McDonnell 
Pointe-Saint-Charles: Legacies and Continuity
- Jocelyne Bernier and Cédric Glorioso-Deraiche 
Montréal-Nord: Community Power Catalyzed by Hoodstock
- Rushdia Mehreen, Mzwandile Poncana, and Will Prosper 
Final Word: Prenons la ville!
- Mostafa Henaway, Jason Prince, and Eric Shragge
 352 pages; 2021; 6x9

A Citizen's Guide to City Politics Retail Prices
Paperback:
978-1-55164-779-1 $24.99
Hardcover:
978-1-55164-781-4 $54.99
PDF eBook or ePub:
978-1-55164-780-7 $11.99