---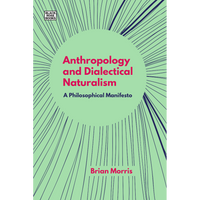 Anthropology and Dialectical Naturalism : A Philosophical Manifesto

Brian Morris
Is the world just a cultural construct where people create their own realities? In this illuminating and wide-ranging philosophical treatise, Brian Morris critiques broad swathes of recent theory as he seeks to reclaim anthropology as a historical social science. He achieves this by grounding it within a metaphysic of "dialectical naturalism" or "evolutionary realism"—a tradition long ignored by academic philosophy.
After reviewing the anthropological background of this worldview—the Greeks and the Enlightenment—Morris explores two essential themes. First, he critically assesses the main forms of dialectical naturalism, including Darwin's evolutionary theory, Marx's historical materialism, and the hylo-realism of the philosopher-scientist Mario Bunge. Second, he offers a strong plea to retain the dual heritage of anthropology as a historical science that combines both humanism and naturalism. A powerful philosophical manifesto, the book cogently upholds dialectical naturalism as the most grounding philosophy for anthropology and the social sciences.
Since leaving school at the age of fifteen, Brian Morris has had a varied career, working as a foundry worker, seaman, and tea-planter before becoming a university lecturer. He is now emeritus professor of anthropology at Goldsmiths, University of London, and the author of many books on anthropology, biology, philosophy, politics, and religion.
Table of Contents:
Preface
Introduction
Part One: Anthropology, Realism, and the Enlightenment

1. The Anthropological Background
2. The Greek Legacy
3. In Defence of the Enlightenment
4. Ontological Realism

Part Two: Varieties of Materialism

5. Philosophical Materialism
6. Darwin's Evolutionary Materialism
7. Marx's Dialectical Materialism
8. The Hylorealism of Mario Bunge
9. Emergent Materialism

Part Three: Anthropology as a Historical Science

10. Truth and Representation
11. Dialectics of Social Life
12. Anthropology: Science and Hermeneutics
Bibliography, Index

200 pages, 6x9
Anthropology and Dialectical Naturalism Retail Prices
Paperback:
978-1-55164-742-5 $23.95 Available Now!
Hardcover:
978-1-55164-744-9 $69.95 Available Winter 2022
PDF eBook:
978-1-55164-746-3 $11.99 Available Now!