---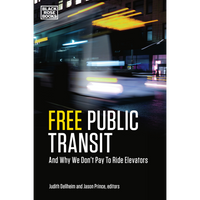 Free Public Transit : And Why We Don't Pay to Ride Elevators

Judith Dellheim and Jason Prince, eds.
"We don't pay for elevators, do we? And rightly so. The very idea is preposterous. Yet the public transit system plays the same role in the city, only sideways," argues the author Jason Prince, a Montreal urban planner and social economy expert.
In an age of increasing inequalities and ecological crisis, movements for free public transit are proposing a profound rethinking of urban transit as a fundamental human right and public good. Research shows that, if the bus were free, people would ride it as much as 50% more in the first year, dramatically reducing car use, traffic, and pollution, while redistributing wealth and increasing social inclusion for poor and working people. But free public transit alone is not enough; it must also be combined with much better service and reserve bus lanes to be effective.
In its twenty chapters, this book explores the winning strategies and pitfalls of case studies ranging across fourteen countries: the United States, Canada, Estonia, Greece, Italy, Sweden, Brazil, Mexico, Poland, China, France, Belgium, Germany, and Australia. As much a manifesto as a guide, this explosive book, the first-ever on the topic in English, is written for those who want to revolutionise their city and move it forward.
Jason Prince has over twenty years' experience in urban planning and social economy development. He teaches part time at Concordia University and is a former candidate for Montreal's City Council. Judith Dellheim is a researcher and solidarity economy consultant at the Rosa Luxemburg Foundation in Berlin and has been involved in both German political parties and social movements.  

Praise for Free Public Transit
"In a warming world, one of the most important immediate steps we can take to address climate change is free public transit. But it is also about just mobility for all citizens, re-orienting urban planning away from cars, addressing gender and racial equality, and much more. Judith Dellheim and Jason Prince have brought together some of the most important examples from around the world.... There is nothing like it. Read this book on your local bus and insist fellow passengers join the campaign to demand free fares."
 ― GREG ALBO, Associate Professor in the
Department of Political Science, York University

"At the end of the first month of free train rides, train usage tripled, and after six months it was sevenfold.... Everywhere that it has been implemented, people like it."
 ― TAAVI AAS, Mayor of Tallinn, capital of Estonia,
and the "free public transit capital of the world"

"Against the backdrop of austerity, service cuts, and threats of privatization, Free Public Transit asks the seemingly crazy question: 'Why isn't public transit free?' This book compiles both the academic background and the advocacy histories to make a convincing argument―that free transit makes sense and can help remedy the congestion, air pollution, unsustainable petroleum dependence, and climate change caused by our automobile-centered transport system."
 ― AARON GOLUB, Director and Associate Professor at the Nohad A.
 Toulan School of Urban Studies and Planning, Portland State University

"For those seeking to secure more sustainable, equitable, and sane cities, this exceptional collection should be cause for celebration. In ways that are profoundly convincing, Free Public Transit suggests that the ostensibly radical and utopian demand for fare-free transit is hardly radical or utopian at all. Indeed, it is just the opposite… not only is free transit eminently achievable, but the benefits can be profound.… For those who remain skeptical that another city is possible, this collection offers a ray of hope and a much needed message: 'Free transit works, it can be won, get on board!'"
 ― KAFUI ATTOH, Assistant Professor of Urban Studies, Joseph S. Murphy Institute
for Worker Education and Labor Studies, City University of New York

"Jason Prince and Judith Dellheim have edited a fine collection of articles making the collective case that it is crucial to return our public transportation to the democratic commons. The book analyses transport not in isolation but as an urban issue embedded in the struggles of class, environment, and for a life based on quality rather than quantity. The contributors come from a variety of geographic and political contexts which enriches and deepens the reader's understanding of the sheer variety of possibilities and struggles in the global political ecology of transportation-related issues."
 ― RICHARD SWIFT, writer, activist, long-time editor with The New Internationalist
magazine, and author of SOS: Alternatives to Capitalism

"Free Public Transit is an intriguing... snapshot of what a transit system that served the needs of everyone in the city could look like and how it could be realized."
 ― YUTAKA DIRKS, The Montreal Review of Books
272 pages; 2018

Table of Contents
Introduction to the Second Edition
Introduction to the First Edition
Free Public Transit: Scope and Definitions — Wojciech Kębłowski
The Transport Spectrum and Vectors of Change — Jan Scheurer
The Political Economy of Transport — Judith Dellheim
Traffic Policy in Bologna: 'Free Fares Were Just the Beginning' — Max Jäggi
Learning from Red Bologna — Maurizio Tira and Michelle DeRobertis
Jamming Fare Boxes in Montreal — Jason Prince
Belgium: Ending the Car Siege in Hasselt — Michael Brie
Tallinn: Estonia Leads the Way With Free Public Transit — Allan Alaküla
Poland: Take Your Potted Plant To Town — Łukasz Ługowski
France: A 'New May 1968' in Aubagne? — Wojciech Kębłowski
Planka.nu: Jumping Turnstiles in Sweden — Anna Nygård
Challenging the Impossible: Toronto — Herman Rosenfeld
The United States: Seeking Transit Justice from Seattle to New York City — Rosalie Ray
Germany: Europe's 'Car Country' is Turning on its Head — Judith Dellheim
Greece: Automobiles or Public Transport? — Georgios Daremas
Brazil: From Dream to Nightmare — Paula Aftimus and Daniel Santini
The Right to the City in Mexico — Lorena Zárate
Riding for Free in a Chinese Metropolis — Wojciech Kębłowski
Value Capture: Linking Public Transport to Land Value — Jan Scheurer
Concluding Remarks

Free Public Transit Retail Prices
Paperback:
978-1-55164-657-2 $26.99
Hardcover:
978-1-55164-659-6 $86.99
PDF eBook:
978-1-55164-661-9 $11.99