---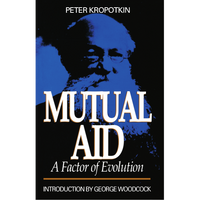 Mutual Aid : A Factor of Evolution

Peter Kropotkin
Introduction by George Woodcock
In Mutual Aid, which was first published in 1903, the renowned geographer applies his explorations of Eastern Asia and his study of wild-animal behaviour to a critical examination of the theory of evolution. His arguments anticipate in a remarkable way the contention of contemporary ecologists that the world of nature is one of interdependence rather than strife.
Born in 1942 into an ancient military family of Russian princes, Peter Alexeivich Kropotkin was selected as a child for the elite Corps of Pages by Czar Nicholas I himself. Shortly before his death in 1921, Kropotkin had moved so far from his aristocratic beginnings and had attained such stature as a libertarian leader that he could with with impunity to Lenin, "Vladimir Ilyich, your actions are completely unworthy of the ideas you pretend to hold."
Kropotkin provides a potent argument for anarchism by showing that people tend to cooperate spontaneously and that the state destroys this natural inclination towards mutual aid by strangling initiative with the dead hand of regulation.
With the exception of his memoirs, this is Kropotkin's best-known work, and it is widely regarded as his masterpiece. It forms the cornerstone of his philosophy, and constitutes the most successful attempt by any writer to put anarchism on a scientific foundation. Mutual Aid is still the best refutation of the Darwinian thesis of survival of the fittest.
George Woodcock is one of Canada's leading men of letters and bographer of such monumental figures such as Ghandi, Aldous Huxley, George Orwell, and Pierre-Joseph Proudhon. His introduction to Mutual Aid throws a modern light on the significance and scope of Kropotkin's contribution.
"Kropotkin's basic argument is correct," noted evolutionary biologist Stephen Jay Gould. "Struggle does occur in many modes, and some lead to cooperation among members of a species as the best pathway to advantage for individuals."

Anthropologist Ashley Montagu declared that "Mutual Aid will never be any more out of date than will the Declaration of Independence. New facts may increasingly become available, but we can already see that they will serve largely to support Kropotkin's conclusion that 'in the ethical progress of man, mutual support—not mutual struggle—has had the leading part.'"

Physician and author Alex Comfort asserted that "Kropotkin profoundly influenced human biology by his theory of 'Mutual Aid' ... He was one of the first systematic students of animal communities, and may be regarded as the founder of modern social ecology."
Table of contents
An introduction by George Woodcock

Preface to 1914 EDITION

Chapter I: Mutual Aid Among Animals

Chapter II: Mutual Aid Among Animals (continued)

Chapter III: Mutual Aid Among Savages

Chapter IV: Mutual Aid Among the Barbarians

Chapter V: Mutual Aid in the Medieval City

Chapter VI: 

Mutual Aid in the Medieval City (continued)
Chapter VII: Mutual Aid Amongst Ourselves
Chapter VIII: Mutual Aid Amongst Ourselves (continued)

410 pages; 1996

Part of our Collected Works of Peter Kropotkin
ISSN: 1188-5807
Mutual Aid Retail Prices
Paperback:
978-0-921689-26-3 $28.99
Hardcover:
978-0-921689-27-0 $49.99
PDF eBook:
978-1-55164-470-7 $11.99