---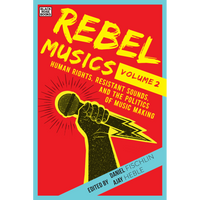 Rebel Musics, Volume 2 : Human Rights, Resistant Sounds, and the Politics of Music Making

Daniel Fischlin and Ajay Heble, eds.
Rebel Musics Volume 2 offers a fascinating journey into the rich, complex world where music and politics co-exist, where rebel musicians mobilize for political change, resistance, and social justice. With explosive lyrics and driving rhythms, musicians are making important contributions to movements for political change and social justice, at home and around the world.

The first volume of Rebel Musics explored how musical activism resonates as both resistance and political action, gathering voices that might otherwise remain silent and empowering people to activate collectively their capacity to influence change. If anything, such issues seem to be even more pressing today as musicians in various genres continue to find engaging and potent ways to express their dissent against the status quo.

This second volume of Rebel Musics turns up the volume on the ongoing debate about music's role as a force for change. Whether "talkin' bout a revolution," fighting the power, or saying (or playing) it loud, musicians—sometimes with words, sometimes without—continue to find compelling ways to sound off against systems of oppression, to use music as a soundtrack for resistance, change, hope, and direct action.

Praise for Rebel Musics
"This new volume of Rebel Musics is a much needed collective screed for our challenging times. Music/Sound, these are the foundations of what makes the world really go round. This collection of writings adds insightful thoughts to an already exciting social practice. It's a great book."
  — Matana Roberts, sound artist/musician

"Rebel Musics Volume 2 reveals exploitation and injustice within musical worlds, and also shows how music can change the world—sounding out against oppression, and inspiring hope and struggle. Equal parts critique and call to action, Rebel Musics Volume 2 is a must-read for anyone interested in music, social transformation, and, especially, relationships between the two."
  — Joel Bakan, Allard School of Law, University of British Columbia and author of The New Corporation
Ajay Heble is the founding Director of the International Institute for Critical Studies in Improvisation (IICSI), and Professor of English in the School of English and Theatre Studies at the University of Guelph. His research has covered a full range of topics in the arts and humanities and has resulted in numerous books, articles, or chapters. He is the founding Artistic Director of the award-winning Guelph Jazz Festival and Colloquium, and a founding co-editor of the peer-reviewed journal Critical Studies in Improvisation/Études critiques en improvisation (www.criticalimprov.com). Heble is also an accomplished pianist who, with Daniel Fischlin, records and performs with the improvising quartet, The Vertical Squirrels.
Daniel Fischlin is a leading Canadian humanities researcher who has produced important cross-disciplinary work, including some twenty books with a wide variety of international presses. His most recent books include (with Ajay Heble and George Lipsitz) The Fierce Urgency of Now: Improvisation, Rights, and the ethics of Cocreation (Duke UP) and a co-authored book with Martha Nandorfy entitled The Community of Rights • The Rights of Community(Oxford UP), the third in a trilogy of books co-written with Dr.Nandorfy on rights issues. Fischlin has received several major awards for teaching excellence and is to date the only winner from the Humanities of the prestigious Premier's Research Excellence Award.As a musician and community organizer, he chairs the Board of silence, a community art space in Guelph, and is also the founding director of the newly launched MA/PhD program in Critical Studies in improvisation at the University of Guelph.
288 pages; 2020

Table of Contents
Preface — Daniel Fischlin and Ajay Heble

Remix One: Music and Transformation: Sounding Agency and Direct Action —

Daniel Fischlin

Music for Loneliness: Ambient Sound and Improvising Queer Resilience —

Feryn Wade-Lang

Rebellion Musics: The Reel Multiracial Jazz Archive Way Out West —

Josslyn Luckett

Singing for Justice: Oromo Women's Musical Responses to Violence —

Leila Qashu

"Welcome to the Dance": FandangObon as Polycultural Anti-Racist Remix —

George Lipsitz

"I Sing of Difference": Violeta Parra's Testimonial Songs for Justice —

Martha Nandorfy

A Hand on the Mic and a Fist in the Air: Sampling the Civil Rights Era in Holy Hip-Hop —

Alyssa Woods and Robert Michael Edwards

Enchantment's Irreconcilable Connection: Listening to Anger, Being Idle No More —

Dylan Robinson

Remix Two: Music and Transformation: Sounding Agency and Direct Action —

Ajay Heble
Rebel Musics, Volume 2 Retail Prices
Paperback:
978-1-55164-697-8 $26.99
Hardcover:
978-1-55164-699-2 $86.99
PDF eBook:
978-1-55164-701-2 $11.99