---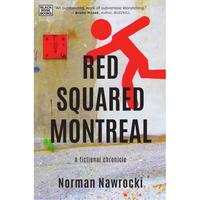 Red Squared Montreal

Norman Nawrocki
Cops going wild clobbering students in the street. Mass protests day and night for seven months. Thousands arrested, more injured. Love and rage, tears and defiance collide in Red Squared Montreal, a fictional chronicle about the historic and bloody Quebec student strike and mass social unrest of 2012-–the longest and largest civil disobedience movement that ever rocked Canada.
Through the eyes of one student, Huberto, we see Montreal streets transformed into either joyful, red-strike spaces, vibrant with art and youthful rebellion, or ugly and dangerous police no-go zones as he navigates his way through the upheaval. The day and night protests lead to a city divided, a government toppled, and a personal vow of vengeance.

Red Squared Montreal is the first fictional account in English about this important mass social movement. It tells the mostly unknown story about the largest civil disobedience movement in Canadian history and describes how activists used 'creative resistance'-–the arts and imagination-–to engage the public. An inspirational read about courage, solidarity and hope in the face of brutal repression this book shows how to organize in the streets for radical change in the 21st century.

Norman Nawrocki, a veteran of Montreal's underground literary, musical and theatre scene, wrote this book while actively supporting the strike and teaching part-time at Concordia University. He has written fourteen books of poetry, short fiction and a novel, two dozen theatre pieces, and recorded over thirty albums of music and spoken word.



PRAISE FOR RED SQUARED MONTREAL:

"With extraordinary vigor and verve, Nawrocki recreates the days of the strike as viewed mainly through the eyes of a student/worker/activist, Huberto, as he deals with elation, and commitment, fending off police attacks, demonstrating, recharging at parties and poetry readings, and burn-out.. What gives the fiction of Red Squared Montreal its power is not just that it recaptures an important chapter of resistance, but that it portrays living for months outside the capitalist routine as joyful and engaging." – Jim Feast, The Fifth Estate, Fall 2023 "Anarchist Review of Books" 
"Post-postmodern, with characters creating themselves out of something that is fully recognizable as composed of the every-day as it is lived. It has the feel of a journal that makes no concessions to the imaginary as any "other" place. In short, credible in the growing anarchic experience of our public worlds."
– Karl Siegler, CA, former publisher, Talonbooks
ABOUT NAWROCKI'S OTHER WORK:
"A stunningly creative voice from out of Montreal's anarchist community"
– Canadian Dimension

"Norman Nawrocki's life and career would require a shelf full of books to document" 
– Canadian Review of Literature in Performance
Red Squared Montreal Retail Prices
Paperback:
978-1-55164-801-9 $19.99
Hardcover:
978-1-55164-803-3 $48.99
PDF eBook:
978-1-55164-805-7 $11.99