---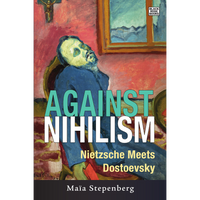 Against Nihilism: Nietzsche Meets Dostoevsky

Maia Stepenberg
Nietzsche and Dostoevsky, two giants of nineteenth-century literature and philosophy, argue about God and man, morality and immorality, and the drama of faith versus doubt. Their great dialogue—and their great quarrel—twists and turns in Maia Stepenberg's new study. Nietzsche's madman in the marketplace declared "God is dead … and we have killed him," while Dostoevsky posited "If God is dead, then everything is permitted." The entire modern world, dominated and defined by crisis and uncertainty, might be said to have come into being with that twin set of announcements.
Against Nihilism considers Nietzsche and Dostoevsky in the light of six different themes as they unfold in each man's writings consistently and independently of one another. Questions of criminality, Christianity, and the crisis of collapsing values all point to the same looming danger of nihilism that both men identified with shared urgency, but for ultimately different purposes.
Inspired by and written for students, tested in the classroom, and aimed at a general audience, this book is unique in providing a new and nuanced look at Nietzsche and Dostoevsky for the twenty-first century.
Maia Stepenberg is professor of humanities at Dawson College in Montreal.

Praise for Against Nihilism
"Maia Stepenberg is a genuinely cosmopolitan and imaginative scholar whose personal experiences in a variety of cultures lend a special dimension to her literary analysis of two giants of modern sensibility."
— Modris Eksteins, Professor Emeritus of History, University of Toronto

"Against Nihilism is that rarest of all things: a work of serious literary scholarship that is impossible to put down… It is particularly welcomed as the first systematic and thorough examination of the parallels and differences between the two writers."
— Maria Bloshteyn, PhD, renowned translator of Russian literature and author of The Making of a Counter-Culture Icon: Henry Miller's Dostoevsky 

 "Maia Stepenberg's nuanced, scholarly reading treats the reader to a lively philosophical encounter between two key figures of the late 19th Century."
— Jeffrey Reid, Professor of Philosophy, University of Ottawa
188 pages; 2018

Table of Contents
Acknowledgments

Introduction

Chapter 1: Exile and Criminality

Chapter 2: Existentialism and the Disease of Nihilism

Chapter 3: Purity and Prophecy

Chapter 4: The Dream of the Golden Age

Chapter 5: Against Nihilism

Chapter 6: Freedom or Christ?

Conclusion

Appendix A: Why Kids Shoot Up Schools

Appendix B: Selections from Students' Scripts

A Select List of Consulted Readings

Index
Against Nihilism Retail Prices
Paperback:
978-1-55164-674-9 $22.99
Hardcover:
978-1-55164-676-3 $52.99
PDF eBook:
978-1-55164-678-7 $11.99