---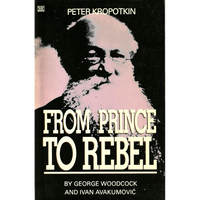 Peter Kropotkin: From Prince to Rebel

George Woodcock & Ivan Avakumovic
Anarchism - the concept of a society without authority, of a civil order without any form of constitution or government - has fascinated people almost as long as we have possessed the power of speculative thought. In the general history of anarchism, the name of Peter Kropotkin dominates.
Born in 1842 into an ancient military family of Russian princes, Kropotkin was selected as a child for the elite Corps of Pages by Tsar Nicholas I himself. Shortly before his death in 1921, he had moved so far from his aristocratic beginnings and attained such stature as a libertarian leader that he could write with impunity to Lenin, "Vladimir Ilyich, your concrete actions are completely unworthy of the ideas you pretend to hold."
Woodcock and Avakumovic's biography, From Prince to Rebel, details the life that flowed between these two points in time. It surveys and analyses the most significant aspects of Kropotkin's life and thought: his formative years in Russia, 1842-1876, and the origins of his anarchist thinking (military service in eastern Siberia, the influence of the works of Proudhon and Bakunin, his role in the Chaikovsky Circle); his years as an émigré in western Europe, 1876-1917, and the ripening of his political though (editor of Le Révolté, his views on Marxist socialism); and his last years in the Soviet Union, 1917-1921, the revolution and civil war, and his meeting and correspondence with Lenin.
Among the recent works of George Woodcock, a well-known Canadian author, are biographies of William Godwin and Pierre-Joseph Proudhon (Black Rose Books). Ivan Avakumovic is Professor of History at the University of British Colombia and the author of History of the Communist Party of Yugoslavia.
Table of Contents
Introduction
1. The Youth
2. The Explorer
3. The Convert
4. The Agitator
5. "The White Jesus"
6. The Traveller
7. The Writer
8. The Exile
9. The Neglected Sage
10. The Prophet
Bibliography
Supplement for 1971 Edition
Supplement to the 1990 Edition
Index
480 pages; 1990

Peter Kropotkin Retail Prices
Paperback:
978-0-921689-60-7 $27.99
Hardcover:
978-0-921689-61-4 $48.99
PDF eBook:
978-1-55164-469-1 $11.99