---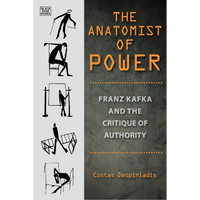 The Anatomist of Power: Franz Kafka and the Critique of Authority

Costas Despiniadis
The study of Franz Kafka's work has seen a steady rise in past decades, with interest broad and growing. With its breadth of sources and bold interpretation, Franz Kafka: The Anatomist of Power is a fascinating new look at one of the greatest authors of the 20th century. Of interest to both academic and public audiences, his work spans multiple disciplines, including literature, gender studies, Jewish studies, modern history, and political theory. 
Although Kafka has been established for many years as a leading light of Western literature, and interest in his writings continue to grow, no work has yet fully focused on Kafka's criticism of power institutions in his literary work. The anti-authoritarian dimension of Kafka's work, long silenced in established criticism, is explored for the first time in this book. 
Supported by a close reading of Kafka's diaries, this book reconstructs Kafka's active participation in Prague's anarchist circles between 1909-1912, discussing his wide interest in anarchist authors, his skepticism towards the Russian Revolution, and his ambivalent relationship with Utopian Zionism.
Costas Despiniadis is a writer, publisher, translator and editor, and the founder of Greek publishing house and journal Panopticon. He has translated 25 books and dozens of essays by Arendt, Shelley, Goldman, Thoreau, Huxley, Kropotkin and Proudhon, among others. His own essays and books have been translated into French, German, Spanish and English.
166 pages; 2019

Table of Contents
Introduction

The Faces of Faceless Power: The Trial, The Castle and beyond

Writing the Law on the Punished Body: In the Penal Colony

Romantic Anti-Capitalism: America

The Power of the Raging Patriarch: Metamorphosis

The Castle's Solid Foundations: The Burrow (Der Bau)

Kafka and the Anarchists

Conclusion
Praise for The Anatomist of Power
In his compelling study Costas Despiniadis discusses Kafka as a political writer, applying to the author's life and work the lens of anarchist criticism. In consideration of Kafka's affinity for anarchist ideas and his affiliations with anarchists in Prague, Despiniadis interprets the nonconformism of protagonists such as Samsa, K., and Josef K. and their radical resistance against power structures and authority figures as a justified, even heroic struggle. In disagreement with the familiar approaches to Kafka, including Freudian, Lacanian, Marxist, and metaphysical ones, Despiniadis rejects any attribution of guilt or moral failure to the Kafkaen hero but instead validates the latter's perceptions of systemic corruption. Despiniadis's eye-opening analysis leads into uncharted territory and sets a high bar for future Kafka scholarship.
 — Dagmar Lorenz, University of Illinois at Chicago, Vice President of the Kafka Society of America


This book is a rare event: a political — in the noblest meaning of the word — interpretation of Kafka's writings. Even better, it is an anarchist reading, against the grain of the conformist academic prose on the author of The Trial. Despiniadis brings together, with admirable talent, literature, philosophy, and contemporary revolutionary issues.
 — Michael Löwy, author of Franz Kafka: Subversive Dreamer
The Anatomist of Power Retail Prices
Paperback:
978-1-55164-656-5 $21.99
Hardcover:
978-1-55164-658-9 $81.99
PDF eBook:
978-1-55164-686-2 $11.99