---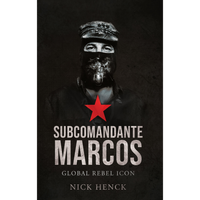 Subcomandante Marcos : Global Rebel Icon

Nick Henck
The unexpected insurrection of the Zapatista Army of National Liberation in 1994 toppled the notion that the triumph of neoliberalism represented the end of history. In the clamor that followed, a masked, pipe-smoking horseman appeared as the spokesperson for the indigenous rebels.
In this book, Nick Henck provides a concise and accessible overview of the life, thought, and achievements of the professor-turned-guerrilla Subcomandante Marcos. Through his academic exodus and immersion in the indigenous communities of the Lacandon jungle, to his participation in a guerrilla army, to his eloquent articulation of the struggles of oppressed peoples around the world, Marcos became a revered and inspiring enigma.
Henck explores Marcos's considerable accomplishments in four main fields: his role as spokesperson for the Zapatistas; his contribution to Latin American literature and a new political language for the left; his work in making Mexico a more democratic, inclusive, and just nation; and his role as an inspirational international political icon. Published for the twenty-fifth anniversary of the Zapatista uprising, this book is not just a biography but also a reminder that there are alternative ways of doing politics: that another world is possible.
Nick Henck is a professor in the faculty of law at Keio University, in Tokyo, and has authored four books about Marcos.

160 pages; 2019

Table of Contents

Timeline
Introduction
1. Subcomandante and Spokesperson
2. Literature and Language
3. Another Mexico
4. Another World
Appendix: Subcomandante Marcos' Communiqué: 'On the (Self-)Defense of Giraffes'
Further Reading
Subcomandante Marcos Retail Prices
Paperback:
978-1-55164-702-9 $23.99
Hardcover:
978-1-55164-704-3 $83.99
PDF eBook:
978-1-55164-706-7 $11.99