---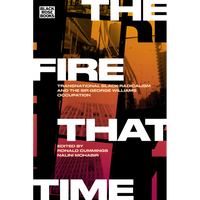 The Fire That Time : Transnational Black Radicalism and the Sir George Williams Occupation

Ronald Cummings, Nalini Mohabir, eds.
"At last, a pivotal moment in Canadian grassroots Black activism and transnational Black radicalization rooted in student response to the alarming racism at Sir George William University (now Concordia University) incisively noted, captured and discussed for generations to come. Here's a project that will help to stem the erasure of Black resistance in Canada. Here are also some of the many stories of the price paid for standing up for racial equality."
—Lillian Allen, Internationally acclaimed poet, writer, award winning recording artist, and Professor in the Faculty of Liberal Arts and Sciences at the Ontario College of Art and Design.
In 1969, in one of the most significant black student protests in North American history, Caribbean students called out discriminatory pedagogical practices at Sir George Williams University (now Concordia University), before occupying the computer centre for two weeks. Upon the breakdown of negotiations, the police launched a violent crackdown as a fire mysteriously broke out inside the centre and racist chants were hurled by spectators on the street. It was a heavily mediatized flashpoint in the Canadian civil rights movement and the international Black Power struggle that would send shockwaves as far as the Caribbean.

Half a century later, we continue to grapple with the legacies of this watershed moment in light of current resistance movements such as Black Lives Matter, calls for reparations, or Rhodes Must Fall. How is the Sir George Williams "affair" remembered, forgotten, or contested? How is blackness included or occluded in decolonizing dialogues?

The Fire That Time addresses those questions while it commemorates and reflects upon the transnational resonances of Black protest and radical student movements. Through a number of thoughtful essays, scholars examine the unfinished business of decolonization and its relationship to questions of pedagogy, institutional life and culture, and ongoing discussions about race and racism.
"Remembrance, Reverberation, Reparation, Reckoning, Renewal. This thoughtful, moving and important collection comes out of a series of conversations held in Montreal to mark the 50th anniversary of the Sir George Williams University student protests. It offers reflections from participants (gathered here in writing for the first time) that provide a glimpse into long histories and heterogeneities of Black activism in Canada, as well as contributions that attend to its transnational dimensions as they materialise in the Pan-Caribbean. Geographies and histories are lovingly stitched together to reveal a living, moving, record of Black radicalism to nourish our ongoing struggles and imaginaries."
—Alissa Trotz, Professor of Women & Gender Studies and Caribbean Studies, University of Toronto.
Table of Contents

Sentences: a memory. the sound of snow. montréal. february - Kaie Kellough.
Foreword - Kaie Kellough.

Introduction: The Fire that Time - Nalini Mohabir and Ronald Cummings.

Fifty Years Ago: Reflections on the Sir George Williams University Occupation - Clarence Bayne, Brenda Dash, Philippe Fils-Amie, Nancy Warner.
A Trial to Remember: Memories of the Sir George Williams Court Trial: An Interview with Judge Juanita Westmoreland-Traoré - Christiana Abraham.
The Sir George Williams Affair: A Watershed In the Black Press - Dorothy W. Williams.
Montreal in the Caribbean Cold War: Reading Haitian and Cuban Connections - Amanda Perry.
On Fire: The Crisis at Sir George Williams University (Montreal) and the Worldwide Revolution
of 1968 - Michael O. West.
Black Radical Thought and Caribbean Feminism: Reconceptualizing Black Transnational Protest - Oceane Jasor.
Walter Rodney, the Black Power Movement and Race in North America and the Caribbean - 
Nigel Westmaas.

Rumblings of a Revolution: Trinidad '70 and the Sir George Affair - Raffique Shah.
"The secret name": Diasporic Disremembering - Alexis Pauline Gumbs.
Black Power in Twentieth Century St. Vincent and the Grenadines - Kirland Ayanna Bobb.
Transnational Marronage: the Abeng Archives - Ronald Cummings.
Black Power in Montreal and Kingston - Rupert Lewis.
On Reparations - Afua Cooper.
Afterword: Looking Backward, Looking Forward: The Sir George Protest at 50 and Beyond - David Austin.
Ronald Cummings is associate professor in the English and Cultural Studies department at McMaster University, Hamilton.

Nalini Mohabir is Assistant Professor in the Department of Geography, Planning, and Environment at Concordia University.
2021, 254 pages, 8.5 x 5.5
Media
 MATV's Writers Unbound
Change and Transformation 
"Transformation, evolution, revolution; how do writers capture moments of change? This week's guests discuss two crucial and under-told moments in Montreal's history. A new nonfiction book brings forward diverse perspectives on the Sir George Williams Affair, the 1969 protest action by West Indian students fighting institutional discrimination. The students' occupation of the computer lab at what's now Concordia University ended with a fire that forced them from the building. Fire is also a force of change in a critically acclaimed book of short stories, one of which reimagines the life and status of Marie-Joseph Angélique, an enslaved Black woman who was executed after being convicted of setting a fire that razed Old Montreal in 1734."

Nalini Mohabir, Co-editor, The Fire That Time
Rebecca Lloyd, Director, Drawn & Quarterly Bookstore
Piedad Saenz, Children Bookseller, Drawn & Quarterly Bookstore
Kaie Kellough, Author & Contributor to The Fire That Time

The Sounds of The Fire That Time
The Fire That Time Retail Prices
Paperback:
978-1-55164-737-1 $26.95 Available Now!
Hardcover:
978-1-55164-739-5 $69.95 Available Winter 2022
PDF eBook:
978-1-55164-741-8 $11.99 Available Now!